[Forum Migration Postings] Kusama Treasury Fund Roadmap
Past Timeline
Date: 13.06.2022
Proposed off-chain proposal Polkassembly
Date: 28.06.2022
Proposed on-chain proposal Subscan | Aggregate Substrate ecological network High-precision Web3 explorer
Date: 29.06.2022
Approved by Kusama Council, went to external proposal in Referendum Subscan | Aggregate Substrate ecological network High-precision Web3 explorer
Date: 10.7.2022
Referedum approved
https://kusama.subscan.io/council/505?tab=proposal_preimage
Date: 19.7.2022
Referedum executed
https://kusama.subscan.io/referenda/212?tab=timeline
Ongoing
The approved spending is ready to be released as soon as the current spend period runs over, the releasing estimated time will be at #13650673 block height.
https://polkadot.js.org/apps/?rpc=wss%3A%2F%2Fkusama-rpc.dwellir.com#/treasury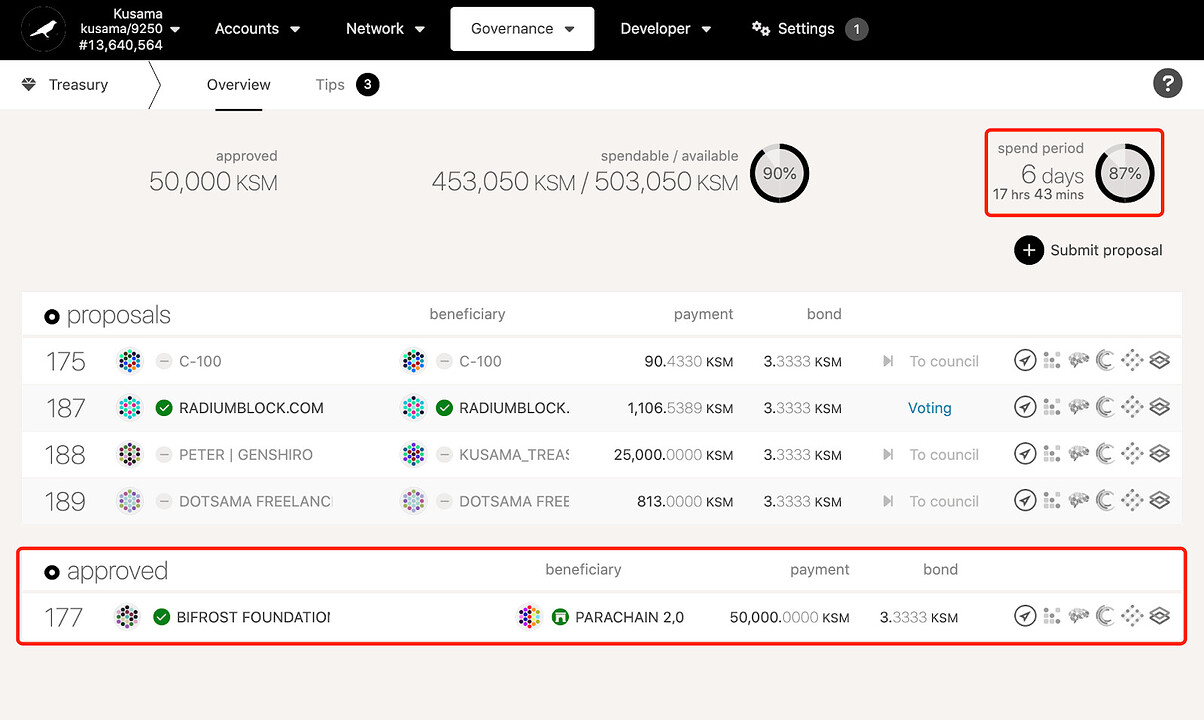 Futher Steps
Step 1: Zenlink AMM
Date: 21.7.2022
The 50,000 KSM liquidity loan will be deployed to Zenlink in the existing Swap vKSM-KSM pair:
The total 50,000 KSM will be split in half: 25,000 KSM provided as KSM liquidity, and the other 25,000 KSM will be converted into vKSM and provided as the vKSM position.
The total liquidity position will be 25,000 KSM - and roughly 25,000 vKSM (in live rate) to the existing Zenlink Swap vKSM-KSM Pair. (Zenlink) ;
Step 2: Zenlink Hybrid AMM
Date: Estimated 8.8.2022
Zenlink protocol has completed a stable AMM function (the AMM adopts the curve of Curve, for further information Hybrid AMM). This development is still in the process of auditing, and will be live in an estimated 2.5 weeks.
The pre-existing 50,000 KSM-vKSM LP will be removed (step 1) to KSM-vKSM Hybrid AMM Pool.
Step 3: Taiga Stable Asset
Date: After 8.8.2022
Taiga is deploying a Stable AMM pallet on BIfrost, taiKSM can be minted via vKSM-KSM pair. Learn more about Taiga and taiKSM.
The 50,000 KSM position in Zenlink Hybrid AMM will be seperated to Taiga Stable Asset. The split percentage will be decided by the community. We will propose a discussion on the Bifrost forum in advance.
At present, the current utility of taiKSM is collateral staking on Karura (Karura Platform). Bifrost and Taiga are pushing for both vKSM and taiKSM as direct collateral for aUSD (the community will be informed on this progress).
Step 4: Enable taiKSM aUSD borrowing and lending
Date: Final Quarter of 2022
In regards to the progress of taiKSM or vKSM as collateral, we would propose another community discussion on splitting the remaining LPs in Step #3 to Taiga stable swap. The portion of the LP removed should be decided by the community, or whether to keep the LP on Zenlink or move it completely to Taiga.
Acala and Bifrost are actively discussing the collateral process and requirements for vKSM to become a collateral for aUSD such as building a vKSM-aUSD pool on Karura (for liquidations) and going through the collateral risk assessment framework of Gauntlet. The team will continue to coordinate with Taiga/Tapio in regards to their process for taiKSM collateralization for aUSD minting and for later use cases around borrowing and lending.
Step 5: Discussions with Purestake regarding xcvKSM on Moonriver network
According to the discussions that took place on the Purestake Cross-chain Security threat workshop held on the 23rd of June 2022 , there are several XCM risks that need to be evaluated by parachains. As a result, discussions regarding the security of parachain sovereign account and representation assets are still very much under discussion and no firm solution has been reached amongst parachains.
Step 6 and further: Enable cross-chained vKSM utilities (through XCM- xcvKSM)
vKSM as a borrowing and lending asset on Moonwell will depend on our efforts in having vKSM approved and part of Chainlinks price oracle feeds as well as reaching a significant TVL of $5M on Solarbeam.
Comment
---
Yancy Jul 20
Let's go step by step !
---
SuperDupont44 Jul 20
Interesting to learn the vision !!
"Que va piano va sano" as @Christian would say.
Let's go 1 step after another one.
Edited
There are no comments here